Trigger warning: The video is quite distressing and not for the faint hearted.
Early this morning I stumbled upon the following video by Yasiin Bey, the artist formerly, or more commonly know as, Mos Def.
It was a disturbing reenactment of what those held at Guantanamo allegedly have to go through. The suggestion being that the detainees at Gitmo who are on hunger strike are force fed in the manner demonstrated by Yasin made me feel very uncomfortable. Not only for the way it was portrayed but a certain discomfort I have with celebrities being the spokespersons for those who cannot otherwise speak. That same discomfort I see when I hear George Clooney being a mouthpiece for Sudan, Bono for any part of Subsaharan Africa and even Angelina Jolie speaking at the G8 summit with her concerns for refugees.
I hasten to add that I believe all the aforementioned celebrities have every right to leverage their perceived positions of power for their respective causes and activism. We live in a culture that reinforces such beliefs. There are those who will probably be alerted to and financially supportive of those causes as a result of said celebrity. I guess what grates me is the notion that a celebrity voice will be representative of those who are suffering in some way.
Then earlier today I saw a tweet that kind of addressed my discomfort.

This was followed by another tweet by the same author that hit me right in the gut.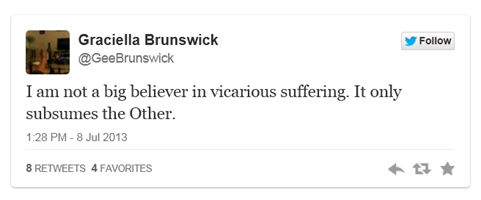 This is where the rubber hits the road for me.
There is nothing wrong with "names" being able to address their respective causes, but there is a bigger picture to be addressed here methinks. Not a one off mouthpiece but a constant collective activism for a cause or the holding of certain people, mainly politicians, responsible for the things that caused these problems in the first place. It is disturbing that the causes as opposed to the systems can easily be swept under the carpet. Way too easily.
Is Obama going to close Gitmo because of Yasiin's video? Will the Western countries who crippled post colonial Africa with debt and political subterfuge change their policies because of Bono and a concert? Will KONY 2012 capture a wanted warlord and bring a sense of relief to Uganda or just make Youtube and a couple of campaigners in Washington and New York happy? Will we spend as much time focusing on Angelina's plight for refugees as we do on the fact she had a double masectomy?
I get Yasiin's video. I really do. It is disturbing and his record shows he is not one to shy away from controversial activism. Yet when I think of another rapper's way of addressing inequality and American injustice my heart goes out to Immortal Technique who helped Afghan children to be housed without the same publicity or corporate funding.
Often when we try to speak for the voiceless, without their permission, we end up speaking only in our own voice. In a brilliant article The Problem with Speaking for Others, the author Linda Martin Alcoff warns of the dangers of our own agendas and privilege seeping in when we desire to become the messenger for others. In and of itself it is not a bad thing to speak for other people but the danger lies in the fact that the messenger and those who receive the message may think that this version is the only truth.
Often it cannot be further from the truth than we care to admit.
Courtesy of David McQueen