Is it due to the midges?
We have put a man on the moon, but we can't stop death. 100% of people die worldwide - despite medical advances. But how can we persuade the Grim Reaper to defer his visit as long as possible, and how can we help Scots have healthier, happier lives?
In Scotland life expectancy continues to get better, but at a rate slower than our Western European neighbours. Despite all efforts, and very significant achievements within NHS Scotland, health inequalities continue to widen.
Are Scotland's genetics responsible for our problems, do we have a poor health care system, or is it due to the midgies or the economy?
The truth is that a profound cultural change is what is required if we are to achieve the massive step change in Scotland's health that we aspire to.
The problem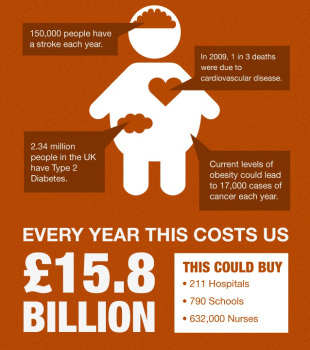 We can help tackle excess early death, and illness in Scotland by addressing
1)    Unhealthy lifestyle choices, including low levels of physical activity, an unbalanced diet, excessive alcohol consumption, and smoking.
2)    A loss of purpose, and sense of control in large population groups.
Lifestyle
Consistent approaches are being applied to address excess alcohol, and smoking, with considerable success - we can continue these. The Lancet suggests that 16% of the UK population dies due to a lack of physical activity. I'll repeat that.
The Lancet suggests that 16% of the UK population dies due to lack of physical activity.
Physical inactivity costs the Scottish economy about £660 million according to CMO Harry Burns, whilst getting people active can help prevent and treat over 20 diseases.
Getting Scots more active, and helping improve what we eat will achieve enormous benefits for the patient and the system.
Sense of control/purpose
Humans work best, and remain healthier when they have a sense of purpose. It doesn't seem to matter what this is, as long as there is one.
Without a sense of purpose we lack direction and meaning in life, and also lose our sense of control and self worth.
Programs that provide people and communities with a purpose and sense of control achieve better health results.
Is it just Scotland?
The same problems are being recognised internationally. Lifestyle factors are contributing to an epidemic of Non-communicable diseases. For example more people die of eating too much worldwide, than too little. The WHO, the World Health Assembly and the Lancet have urged countries, systems, and practitioners to continue treating disease, but also to help patients address physical inactivity, unhealthy diets, and other factors, that can help create health as well as treat disease.
A fresh approach – Health creation
Healthcare leaders in Scotland like Derek Feeley, Harry Burns, and Jason Leitch are making the bold changes that will integrate health and social care, helping tackle the factors that lead to a loss of purpose and control, and unhealthy lifestyle choices.
The clear intention is to produce world class health care, and to do the best for every patient every time. I want to be a part of that.
Initiatives such as the Early Years Collaborative gives opportunities for us all to make a difference, and to get it right for our patients and communities.
Increasing physical activity
Health promotion in general is good medicine. Evidence is mounting internationally that physical inactivity is one of the biggest causes of death and illness worldwide, but more importantly we can do something about it.
There is bullet-proof evidence that we can make a difference in healthcare, and Scotland can lead the way in this regard.
Worldwide, it's the new show in town, with the scale of the problem only now appreciated.
And the world does a bad job on physical activity- fewer than 15% of GP's practice nurses and health visitors in Scotland know the guidelines, compared to 97% of medical students knowing the alcohol guidelines.
What can we do?
I'll just focus on physical activity - but health promotion in relation to many risk factors can achieve results. Something that we can all do to make a difference to our patients. If we are to do the best for every patient, every time, that will often involve health promotion. There are competing priorities, and we are all busy, but either we are serious about doing what will most benefit our patients, or we are not.
1)    We can spread the word about the guidelines - the basics are:
a)    Adults: 30 mins 5x a week (150 mins/ week)
b)    Children: 5-18- an hour a day, are minimum recommendations, and everything counts, walking, cycling, swimming, dancing, gardening, and as a starter, something is better than nothing.
2)    Ask the questions, How often do you do physical activity (everything counts) and for how long, followed by sensible brief advice on integrating it into daily life, and walking more. Where possible offering brief interventions, and signposting to the likes of local resources, Active Scotland, Paths for All, Jog Scotland, Tribesports etc can help. And it's clinically and cost effective - almost ridiculously so in primary care studies show, and probably in secondary care.
3)    Build physical activity for health into admissions forms, clerking sheets, guidelines. If this kills more than obesity, suicide and MRSA combined, we should be asking about it.
4) Watch http://www.paha.org.uk/Feature/23.5-hours which is the most popular health video on the internet - and share on Facebook, Twitter etc.
Courtesy of @docandrewmurray via Ayrshire Health
@docandrewmurray is a GP and sports and exercise medicine doctor. He works as the Scottish Government's physical activity champion. As a runner he's won races in jungles, deserts, in the Arctic, and has run from John O' Groats to the Sahara desert and last month ran 7 Ultra Marathons on 7 continents in 5 and a half days – to raise awareness of the benefits of exercise.